Polyamide Monofilaments
ELASTIC

TECHNICAL

SMOOTH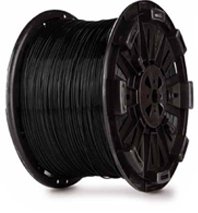 The ISL Polyamide line range is both the most complete and the most technical available on the market today.
Speed Group ISL agricultural products are designed to cope with the vagaries of the climate and the most extreme of temperatures, from -40°C to +50°C
ISL Polyamide lines do not rust, do not conduct heat, and are 7 times lighter than an equivalent diameter of steel wire.
Strong and elastic, ISL will protect your structures over the long term.
We welcome a challenge and our R&D team will always try to adapt our products to your needs, both technically and practically.
TECHNICAL DATA
Diameter
Distance / Weight (Theory)
Breaking Load
mm
gauge
Meters / Kg
Feet / Lb
KgF
LbF

ISL PA 2.0

2.0
14
279
415
157
348

ISL PA 2.5

2.5
12.5
179
266
245
517

ISL PA 3.0

3.0
11
124
185
353
787

ISL PA 4.0

4.0
8
70
104
591
1304

ISL PA 5.0

5.0
6
45
67
805
1810

ISL PA 6.0

6.0
4
31
46
1130
2608
PACKAGING
SPOOLS
10 Kg spool with up to 2800 m (depending on diameter)
CUSTOM
For custom packaging, please feel free to contact us